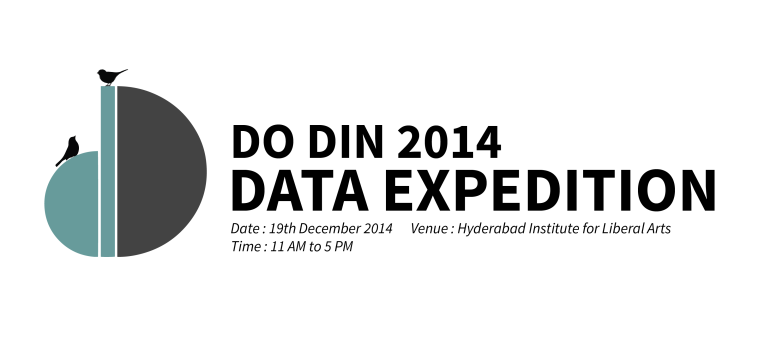 On 19th December 2014, as a Pre Do Din event, HUL will be running a day long Data Expedition in collaboration with The School of Data, Bangalore.
Data Expedition is a practice developed by the School of Data based on their two core philosophies of learning by doing and working with real data. The aim is to "explore unchartered territory", and work in areas where quality data is hard to find, or not even produced. Contrary to general perception data analysis is not all or only about hardcore number crunching nor does it always require "data savvy" people to understand data or work with it.
For the proposed workshop HUL is looking for people who are or wish to be:
Storytellers – People who can find new perspectives for looking at problems based on insights from the field and can articulate the problems at hand, also define projects suitable to deal with these problems.
Scouts – People who can literally scout the internet and other offline resources to find new data and data-sources.
Analysts – People who can collaborate on reading the data. This can mean finding patterns in the numbers and figures, it could also mean interpreting social situations, qualitatively.
Engineers – People with a sense of the resources required to address a problem and how various resources can be combined for optimum effect.
Designers – People who can come up with innovative solutions, or innovative methods to seek solutions.
This list of roles is neither exhaustive nor mutually exclusive. One person can play more than one of these roles. A dynamic group can come up with several interesting analyses and solutions. Most importantly, it is an opportunity to learn from each other, learn to look at things differently and learn new skills. Data Expeditions are open-ended without pre-determined outcomes, so as to facilitate creativity and a plurality of approaches.
Read more about Data Expeditions.
Nisha Thompson, our data Guide for the workshop has worked extensively with data on water supply in India vente de viagra sur internet. Water supply data produced by the GOI is highly fragmented and does not provide a comprehensive picture of the problem. Her challenge has been to enhance the existing water data through field observations and augmenting it with schematic maps and other visuals.
Do mark your calendars if you are excited by the prospect of working with real data and learning new skills, or even getting a deeper understanding of urban realities.
Friday, 19th December from 9 a.m. to 5 p.m at Hyderabad Institute of Liberal Arts, 403, B block, Delta Seacon, Road 11, Banjara Hills, Hyderabad – 500034.