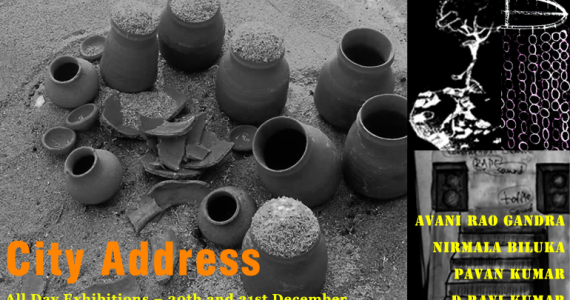 City Address – Art Installations at Do Din 2014
City Address is a set of art installations addressing the issues of the city by four artists. This is an 'Art for Change' initiative ,curated by Avani Rao Gandra for Do Din 2014. Visit the facebook event page for updates.

Concept Notes for Installations
1) Food On My Plate
by artist Avani Rao Gandra
Food on the urban plate speaks a growing disconnect from its natural sources – the emotional bond of growing food , inter dependence of nature and man, connecting with rain, drought, sunlight , animal ,bird, are lost in the long food miles . The ideas of self-sustenance, the sense of working for food is replaced by food for work, in city's life. The local produce is ignored and a chemical laden import from all over the world in form of fast food , grab a bite attitude , food for recreation , build wider gaps in the Indian traditional beliefs of food as sacred .
The pots in the installation are symbolic of food producing rusticity around the city , sometimes empty , at times full or may have just fallen apart . The broken shreds at the center represent the food in the city, as a degraded identity and disconnect with a wholesome, holistic, natural food experience.
The viewers are encouraged to walk around the installation leaving foot prints, to create a consciousness, as an act of deeper reflection.
Material to be used : Earthen pots , Sand , Rice husk .Dimensions of actual installation 15ft x 15ft .
2) Green Bangles
by artist Nirmala Biluka
The idea of the present installation is to create a confined space made out of hanging glass bangles in a circle. The city of Hyderabad is popular for its bangles. The green colored bangles are not only symbolic of 'womanhood' but also of tradition, honor and auspiciousness viagra 50mg. The bangles are used here to show the fragile and vulnerable nature of a woman's life in a growing urban milieu.
The audiences are invited to enter into the space, feel the anxiety as well as the celebration of being a woman and reflect for a moment on issues related to women's safety and security in our everyday lives.
Material to be used:
1. Circular ring made of metal.
2. Readymade Glass bangles.
3. Velvet cloth to be placed on floor.
4. Wire or thread to join the bangles.
Dimensions:
Height – 8ft (app)
Diameter – 4ft (app)
3) Time lapse in urban life
by artist Pavan Kumar D
In the hectic life in the city there is no time to reflect on time space and memories . The installation is about humans who have become rigid in their day to day chores , in their taxing work cultures they have lost their connect with nature and of being human . .. it's like holding the changing shadow of a tree against a time lapse and forgetting the tree .
In this installation I am trying to hold this time called 'do-din' by holding the shadow of a tree, which is impossible , but by giving the shadow a shape , form and colour its my attempt to bring notice to the missing essence of todays urban living , an attempt to bring attention to beauty of nature, of time that passes by and living in a certain space with consciousness
4) City- Heard and Unheard sounds
by artist Ravi Kumar
Sound installation addressing the sounds of a growing city- The obvious sounds of traffic, construction site s, breaking of heritage rocks and structures and the not so obvious hidden muffles of insecure women and girl child, within the unseen structures of the city . The mute silences that are bigger threats of anticipating violence.
Material used : Sound boxes and voice player