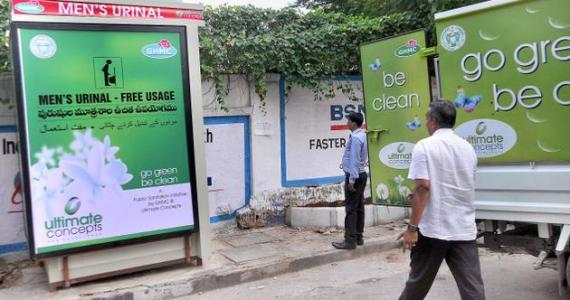 Hyderabad's New Free Urinals: A Toilet Review
One thing about the new toilets which we absolutely support is that they're free of cost!
But let's look at them a little more carefully. We thought of dividing the review on the basis of Design and Maintenance.
Although most people in Hyderabad will have seen these toilets, here are some photos. (click to enlarge)
Design
1. One thing that troubles us is that we are still seeing only men's urinals coming up across the city.
2. The good thing about the design is that it's compact and can be easily installed. It does not take up too much space on the footpath. However, the drawback is that the interior space is quite cramped and the door is quite narrow.
3. They have good signage, using both symbolic representation and instructions in English and Telugu (some of them also have Urdu).
4. The urinals will be water-free. This is interesting. Hopefully, the no spitting signs will be enough to dissuade people from spitting pan, chewing gum or tobacco into the urinal and clogging them.
5. The drawback of being water-free is that there is no wash basin either. Maybe a dispenser of hand-sanitizer can be included?
6. The toilets are also aesthetically designed, so we need not worry that the closest RWA will complain and have them (re)moved.
Maintenance
We have more questions than comments on the maintenance front.
1. The water-free toilet means that the toilet is only cleaned by hand. Who are these workers? (Are we repeating India's ugly history with dry toilets?) Are they provided with gloves, face-masks or other protective gear?
2. Where is the discharge from the toilet released? There is no septic tank, so is it flowing directly into the drains or other water bodies?
3. They are open for only 14 hours in a day, although they do not require full-time maintainers. Why so? We speculate that there could be good reasons for this, but we would like to know the actual specific reasons.
Besides the comments on design and maintenance, one troubling aspect is the lack of transparency in the process. The location and design of the toilets have been determined through private consultations and it is difficult to find any trace of "Ultimate Concepts" (the company/organization responsible for building these new toilets) anywhere online. The location of toilets is a problem that Hyderabad Urban Lab has specifically been indicating and once again we find one of these free urinals emerging across the road from an existing public toilet complex.
At Do Din 2014, we are hosting a Designthinking workshop dedicated to the question of public toilets. The objective of this workshop is to firstly review existing models of public toilet design, construction and maintenance from the perspective of multiple stakeholders. With a clear understanding of this existing situation, the workshop further seeks to give a sense of what are the kinds of resources that would be required to design implementable solutions.
Arvind Lodaya and Rajib Ghosh will be the anchors for this workshop. Both of them are  accomplished designers who are passionate about finding innovative solutions for tough problems and to improve quality of life.
There will be limited seats in this workshop, so we will have separate registrations. If you wish to attend this workshop, write in to us at indivarj@gmail.com
Cover photo from The Hindu.